iTEMP TMT122
DIN rail temperature transmitter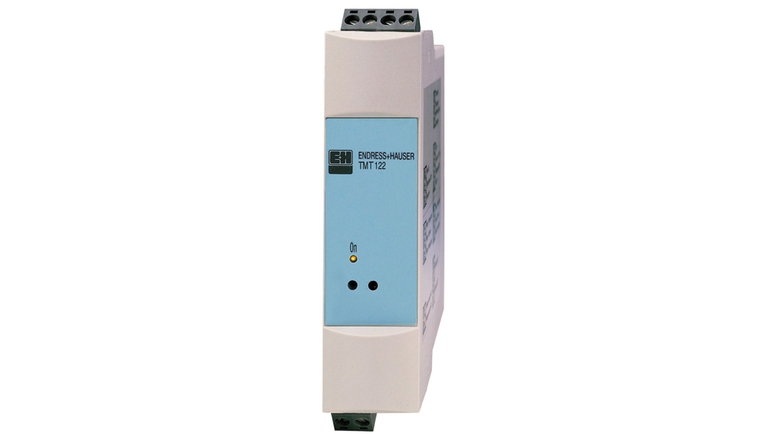 Transformation of sensor signals into stable and standardized output signals for all industries
Unsurpassed reliability, accuracy and long-term stability in critical processes over all industries. The configurable transmitter not only transfers converted signals from resistance thermometers (RTD) and thermocouples (TC), it also transfers resistance and voltage signals using HART® communication. Swift and easy operation, visualization and maintenance by PC using operating software. Installation is realized on DIN rail according to IEC 60715 (housing width: 22.5 mm).
빠른 선택
제안된 옵션 중에서 선택하십시오.
개별 사양 구성
가능한 모든 옵션에서 선택을 계속하십시오.
장점

Universal settings with HART® protocol


High accuracy in total ambient temperature range

Fault signal on sensor break or short circuit, NAMUR NE 43 compliant

EMC to NAMUR NE 21, CE

Ex-Certification: ATEX Ex, CSA IS, FM IS

Galvanic isolation
적용 분야

Temperature transmitter with HART® -Protocol for converting various input signals into a scalable 4 to 20 mA analog output signal

Input: Resistance thermometer (RTD), thermocouple (TC), resistance transmitter (Ω), voltage transmitter (mV)

HART®-Protocol...
액세서리 / 예비 부품
Terminal plug-in 2pole RM5 printed -/+

Termin plug-in 2pole RM5 printed -/+

Set, 10x fixing lever housing

for RMA42x/RMx621/RTA421/RN221N/TMT12x

Commubox FXA195

Modem to connect HART field devices to a computer via USB. Commissioning of field devices with software tool. :: To connect to a intrinsically safe signal circuit. :: SIL2, IEC61508.

Readwin 2000 Operation + Read. software

The unit is not repairable
신제품

모든 산업 분야에 걸쳐 중요 프로세스에서 탁월한 신뢰성, 정확성 및 장기 안정성을 보장합니다. HART® 통신이 가능한 Bluetooth® 지원 가능 온도 트랜스미터. 위험한 지역에 사용 가능.