Digital pH sensor
Memosens CPS31D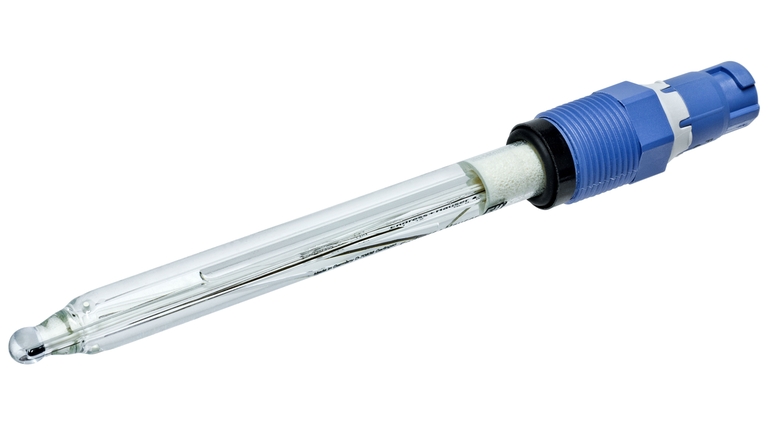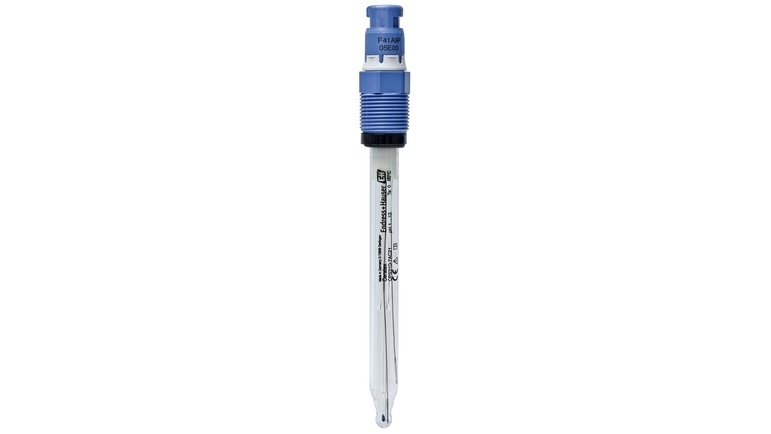 Memosens glass electrode for application in drinking water and swimming pools
Memosens CPS31D is the digital expert for pH compensation in disinfection processes. Its three diaphragms make it suitable for minimum conductivity while its low drift guarantees stable measurement. The sensor makes sure that swimming pool water is agreeable and drinking water tasteful. Thanks to Memosens technology, CPS31D combines maximum process and data integrity with simple operation. It resists corrosion and moisture, enables lab calibration and facilitates predictive maintenance.
FLEX 선택
기술적 우수성
단순성

Fundamental 선택

기본적인 측정 요구사항 충족

기술적 우수성

단순성

기술적 우수성

단순성

Extended 선택

혁신적인 기술로 프로세스 최적화

기술적 우수성

단순성

Xpert 선택

가장 까다로운 어플리케이션 요구사항 충족

기술적 우수성

단순성
사양 정보

Measurement range

Process temperature

0 to 80 °C
(32 to 176 °F)

Process pressure

1 to 4 bar
(15 to 60 psi)
Loading alternative products
빠른 선택
제안된 옵션 중에서 선택하십시오.
개별 사양 구성
가능한 모든 옵션에서 선택을 계속하십시오.
장점

Reliable measurement at minimum conductivity thanks to three diaphragms

Low drift by very low level of ion depletion in electrolyte

Optional salt ring for extended operating time

Maximum process safety through non-contact inductive signal transmission

...
적용 분야

Drinking water

Swimming pool water

pH compensation for free chlorine measurement
문서 / 매뉴얼 / 소프트웨어
Technical Information CPS31D/CPS31

pH electrodes with ceramic-diaphragm and gel filling

Technical Information (TI)

pH/ORP sensors and reference half cells

Sensors with Memosens technology and analog sensors

Operating Instruction (BA)

Memosens pH/ORP Sicherheitshinweise für elektrische Betriebsmittel im explosionsgefährdeten Bereich Safety instructions for electrical apparatus for explosion-hazardous areas Conseils de sécurité pour matériels électriques destinés aux zones explosibles Safety Instructions

Safety instructions for electrical apparatus for explosion-hazardous
areas

Ex Safety Instructions (XA)

Kompetenz in der Flüssigkeitsanalyse

Vom Sensor bis zur schlüsselfertigen Komplettlösung

Fields of Activities (FA)

03/19

Expertise in liquid analysis

From sensors to complete turnkey solutions

Fields of Activities (FA)

03/19

Catálogo Portfolio Analítica

Desde sensores hasta soluciones completas

Fields of Activities (FA)

01/17

Jistota v analýze kapalin

Od senzorů po kompletní dodávku na klíč

Fields of Activities (FA)

01/17

Esperti nell'analisi dei liquidi

Dai sensori singoli a soluzioni
complete "chiavi in mano"

Fields of Activities (FA)

01/17

Aus Freude an gutem Wasser

Frische Ideen für Wasserwerke, Verteilernetze, Oberflächenwasser und
Industrieanlagen

Competence Brochure (CP)

06/20

For the love of quality water

Fresh ideas for waterworks, distribution networks, surface waters and
industrial plants.

Competence Brochure (CP)

06/19

pH-Messung in Industrieprozessen

Auswahl- und Engineering-Hilfe für verschiedene Industriebranchen und
Applikationen

Competence Brochure (CP)

03/20

pH measurement in industrial processes

Selection and engineering guide for different industries and
applications

Competence Brochure (CP)

02/20

A turnkey solution for free chlorine measurement

A turnkey solution for free chlorine measurement
Complete EPA compliant
reagent-less free chlorine measurement system

Competence Brochure (CP)

01/17

Memosens digital sensor technology for liquid analysis (mp4 format, 61.7 MB)

De Memosens technologie van Endress+Hauser is een revolutie in
vloeistofanalyse.
Het zet een analoge meetwaarde om in een digitaal signaal dat geheel
galvanisch
gescheiden naar de transmitter gaat.
Memosens sensoren slaan kalibratie-, sensor- en procesdata op in hun
interne
geheugen. Dit zorgt voor een juiste processturing en optimaal onderhoud.

Memosens digital sensor technology for liquid analysis (mp4 format, 61.7 MB)

La technologie Memosens Endress et Hauser révolutionne l'analyse
physico-
chimique. Elle convertit les valeurs mesurées en signaux numériques et
les transfère
au transmetteur via une connexion sans contact.
Les capteurs Memosens mémorisent les données d'étalonnage, de capteur et
de
process, ce qui permet un contrôle précis du process et une maintenance
optimale.

Memosens - Digitale Sensortechnologie für die Flüssigkeitsanalyse (flv-Format, 17.8 MB)

Memosens digitalisiert den Messwert im Sensor und überträgt ihn
kontaktlos zum Messumformer.
Dieses Video zeigt, wie Memosens funktioniert und wie PAT-Mitarbeiter
davon profitieren.

Memosens digital sensor technology for liquid analysis (mp4 format, 61.7 MB)

Memosens converts the measured value to a digital signal and transfers
it to the transmitter without a contacting connection.
This video shows how it works and how people in process analytics
profit from it.

Tecnología Memosens - Fácil, segura y sencilla (mp4-Format, 61.7 MB)

La tecnología Memosens de Endress+Hauser ha revolucionado el análisis de
líquidos.
Convierte el valor medido en una señal digital, y la transfiere por
inducción al transmisor.

Memosens digital sensor technology for liquid analysis (flv format, 17.2 MB)

Memosens converts the measured value to a digital signal and transfers
it to the transmitter without a contacting connection.
This video shows how it works and how people in process analytics
profit from it.

Memosens - Digitale Sensortechnologie für die Flüssigkeitsanalyse (mp4-Format, 61.7 MB)

Memosens digitalisiert den Messwert im Sensor und überträgt ihn
kontaktlos zum
Messumformer.
Dieses Video zeigt, wie Memosens funktioniert und wie PAT-Mitarbeiter
davon
profitieren.

CeraGel, CeraLiquid, Memosens, OrbiPore, OrbiSint

Product Code: CPS11-, CPS11D-, CPS12D-, CPS31D-, CPS41-, CPS41D-, CPS71D-, CPS72D-, CPS91D-
Declaration Number: HE_01182_01.19
Manufacturer Specification: RoHS

TopHit, OrbiSint, OrbiPore, Messkabel, Memosens, Memocheck, Ceramax, CeraLiquid, CeraGel

Product Code: CYP03D-, CYP02D-, CYP01D-, CYK20-, CYK10-, CPS96D-, CPS92D-, CPS91D-, CPS76D-, CPS72D-, CPS71D-, CPS491D-, CPS471D-, CPS441D-, CPS42D-, CPS41D-, CPS341D-, CPS31D-, CPS171D-, CPS16D-, CPS12D-, CPS11D-
Declaration Number: EC_00105_02.15

OxyMax W, OxyMax H, OrbiSint, OrbiPore, OrbiPac, Messkabel, Memosens, Liquiline, InduMax P, InduMax H, ConduMax W, ConduMax H, CeraLiquid, CeraGel

Product Code: CYK20-, CYK10-, CPS92D-, CPS72D-, CPS71D-, CPS42D-, CPS41D-, CPS31D-, CPS16D-, CPS12D-, CPS11D-, CPF82D-, COS81D-, COS51D-, COS22D-, COS21D-, CML18-, CLS82D-, CLS54D-, CLS50D-, CLS21D-, CLS16D-, CLS15D-
Declaration Number: EC_00828_01.20

TopHit, Sensor, PuriSys, OrbiSint, OrbiPore, OrbiPac, Memosens, Liquisys pH/ORP, Liquisys Oxygen, Liquisys Chlorine, Liquiline M, Liquiline, CeraTex, Ceramax, CeraLiquid, CeraGel

Product Code: CPS491-, CPS47D-, CPS471D-, CPS471-, CPS441D-, CPS441-, CPS42D-, CPS42-, CPS41E-, CPS41D-, CPS41-, CPS341D-, CPS31D-, CPS31-, CPS171D-, CPS491D-, CPS64-, CPS71-, CPS71D-, CPS71E-, CPS72-, CPS72D-, CPS76D-, CPS77D-, CPS91-, CPS91D-, CPS91E-, CPS92-, CPS92D-, CPS96D-, CPS97D-, CPS16D-, CCM223-, CCM253-, CM14-, CM42-, CM442-, CM442R-, CM444-, CM444R-, CM448-, CM448R-, CM44P-, CM72-, CM82-, COM223-, COM223F-, COM253-, COM253F-, CPF201-, CPF81-, CPF81D-, CPF82-, CPF82D-, CPM223-, CPM253-, CPS11-, CPS11D-, CPS11E-, CPS12-, CPS12D-, CPS12E-, CPS13-
Region/Country: Russia (TR CU)
Approval Agency: EAC
Approval Number: EAEC RU D-DE.AD07.B.01362/19

TopHit, Sensor, PuriSys, OrbiSint, OrbiPore, OrbiPac, Memosens, Liquisys pH/ORP, Liquisys Oxygen, Liquisys Chlorine, Liquiline M, Liquiline, CeraTex, Ceramax, CeraLiquid, CeraGel

Product Code: CPS47D-, CPS471D-, CPS471-, CPS441D-, CPS441-, CPS42D-, CPS42-, CPS41E-, CPS41D-, CPS41-, CPS341D-, CPS31D-, CPS31-, CPS171D-, CPS16D-, CPS491-, CPS491D-, CPS64-, CPS71-, CPS71D-, CPS71E-, CPS72-, CPS72D-, CPS76D-, CPS77D-, CPS91-, CPS91E-, CPS92-, CPS92D-, CPS96D-, CPS97D-, CCM223-, CCM253-, CM14-, CM42-, CM442-, CM442R-, CM444-, CM444R-, CM448-, CM448R-, CM44P-, CM72-, CM82-, COM223-, COM223F-, COM253-, COM253F-, CPF201-, CPF81-, CPF81D-, CPF82-, CPF82D-, CPM223-, CPM253-, CPS11-, CPS11D-, CPS11E-, CPS12-, CPS12D-, CPS12E-, CPS13-
Region/Country: Russia (TR CU)
Approval Agency: EAC
Approval Number: EAEC D-DE.AD07.B.01363/19

CeraGel, CeraLiquid, Memosens, Messkabel, OrbiPore, OrbiSint

Product Code: CYK20-, CYK10-, CPS96D-, CPS92D-, CPS91D-, CPS76D-, CPS72D-, CPS71D-, CPS42D-, CPS41D-, CPS31D-, CPS171D-, CPS16D-, CPS12D-, CPS11D-
Region/Country: China
Approval Agency: NEPSI

CeraGel, CeraLiquid, Memosens, Messkabel, OrbiPore, OrbiSint

Product Code: CYK20-, CYK10-, CPS96D-, CPS92D-, CPS91D-, CPS76D-, CPS72D-, CPS71D-, CPS42D-, CPS41D-, CPS31D-, CPS171D-, CPS16D-, CPS12D-, CPS11D-
Region/Country: China
Approval Agency: NEPSI

TopHit, OxyMax W, OxyMax H, OrbiSint, OrbiPore, Messkabel, Memosens, Memocheck, ConduMax W, ConduMax H, Ceramax, CeraLiquid, CeraGel

Product Code: CYP02D-, CYP01D-, CYK20-, CYK10-, CPS96D-, CPS92D-, CPS91D-, CPS76D-, CPS72D-, CPS71D-, CPS491D-, CPS471D-, CPS441D-, CPS42D-, CLS15D-, CLS16D-, CLS21D-, CLS82D-, COS22D-, COS51D-, COS81D-, CPS11D-, CPS12D-, CPS16D-, CPS171D-, CPS31D-, CPS341D-, CPS41D-
Region/Country: International (IECEx)
Approval Agency: EXAM (DMT, BVS)

CeraGel, CeraLiquid, Memosens, OrbiPore, OrbiSint

Product Code: CPS11D-, CPS12D-, CPS16D-, CPS31D-, CPS41D-, CPS42D-, CPS71D-, CPS72D-, CPS76D-, CPS91D-, CPS92D-, CPS96D-
Region/Country: Canada (CRN)
Approval Agency: CRN

Viomax, New Analyzer Platform, Memosens, InduMax P, Turbimax, TopHit, Sample Preparations, OxyMax W, OxyMax H, OrbiSint, OrbiPore, OrbiPac, OEM, ConduMax W, InduMax H, ConduMax H, Chloromax, Ceramax, CeraLiquid, CeraGel

Product Code: CPS16D-, CAS51D-, CLS50D-, COS22D-, CLS82D-, CLS54D-, CAT860-, CA80AL-, COS51D-, CPS171D-, CPS31D-, CPS341D-, CPS41D-, CPS42D-, CPS441D-, CPS471D-, CPS491D-, CPS71D-, CPS72D-, CPS76D-, CPS91D-, CPS92D-, CUS50D-, CUS52D-, CPS12D-, CPS96D-, OCCS50D-, OCUS51D-, CPS11D-, CPF82D-, CPF81D-, COS81D-, COS61D-, CLS21D-, CLS16D-, CLS15D-, CCS142D-, CAT820-, CAT810-
Region/Country: Russia
Approval Agency: Rosstandart
Approval Number: DE.C.31.004.A NO 70194

Turbimax, TopHit, OxyMax W, OxyMax H, OrbiSint, OrbiPore, OrbiPac, New Analyzer Platform, Memosens, InduMax P, InduMax H, ConduMax W, ConduMax H, Chloromax, Ceramax, CeraLiquid, CeraGel

Product Code: CPS171D-, CPS31D-, CPS341D-, CPS41D-, CPS41E-, CPS42D-, CPS441D-, CPS471D-, CPS47D-, CPS491D-, CPS71D-, CPS71E-, CPS72D-, CPS76D-, CPS77D-, CPS91D-, CPS91E-, CPS92D-, CPS96D-, CPS97D-, CUS50D-, CUS51D-, CUS52D-, CA80HA-, CA80SI-, CCS120D-, CCS142D-, CCS50D-, CCS51D-, CLS15D-, CLS16D-, CLS21D-, CLS50D-, CLS54D-, CLS82D-, COS22D-, COS51D-, COS61D-, COS81D-, CPF81D-, CPF82D-, CPS11D-, CPS11E-, CPS12D-, CPS12E-, CPS16D-
Region/Country: Russia
Approval Number: OC.C.31.004.A NO 75181

Viomax, Turbimax, TopHit, OxyMax W, OxyMax H, OrbiSint, OrbiPore, OrbiPac, Memosens, Liquiline M, Liquiline, Isemax, InduMax P, InduMax H, ConduMax W, ConduMax H, Chloromax, Ceramax, CeraLiquid, CeraGel

Product Code: CPS47D-, CPS471D-, CPS441D-, CPS42D-, CPS41E-, CPS41D-, CPS341D-, CPS31D-, CPS171D-, CPS16D-, CPS12E-, CPS12D-, CPS11E-, CPS11D-, CPS491D-, CPS71D-, CPS71E-, CPS72D-, CPS76D-, CPS77D-, CPS91D-, CPS91E-, CPS92D-, CPS96D-, CPS97D-, CUS50D-, CUS51D-, CUS52D-, CAS40D-, CCS120D-, CCS142D-, CCS50D-, CCS51D-, CLS15D-, CLS15E-, CLS16D-, CLS16E-, CLS21D-, CLS21E-, CLS50D-, CLS54D-, CLS82D-, CLS82E-, CM14-, CM442-, CM442R-, CM444-, CM444R-, CM448-, CM448R-, COS22D-, COS51D-, COS61D-, COS81D-, CPF81D-, CPF82D-
Region/Country: Russia
Approval Agency: Rosstandart
Approval Number: OC.C.31.004.A NO 54218/1
액세서리 / 예비 부품
Memoclip label Memosens sensor

for assignment of sensors to measuring loop. 100 sensor clips with printable labels

Technical buffer solution CPY20

pH quality buffer solution, referenced to primary reference material of PTB and standard reference material of NIST. in DAkkS accredited buffer Laboratory.

KCL-Electrolyte solution CPY4

For liquid filled electrodes