Proline Promass 84F
Coriolis flowmeter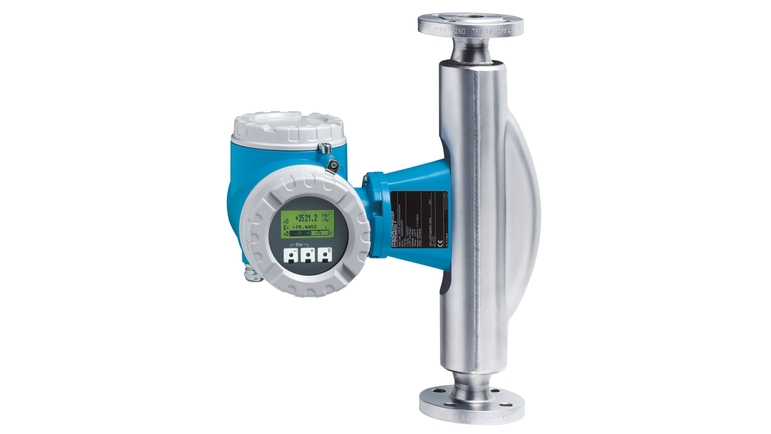 Flowmeter with premium accuracy, robustness and custody transfer functionality
Promass F has a long standing reputation as a highly accurate device under varying process conditions. It is suited for broadest range of applications. Combined with the Promass 84 transmitter, Promass 84F offers premium accuracy in measurement of liquids and gases. It will be the preferred solution for customers needing custody transfer measurement.
빠른 선택
제안된 옵션 중에서 선택하십시오.
개별 사양 구성
가능한 모든 옵션에서 선택을 계속하십시오.
장점

Highest process safety – immune to fluctuating and harsh environments

Fewer process measuring points – multivariable measurement (flow, density, temperature)

Space-saving installation – no in/outlet run needs

Quality – designed for custody transfer;...
적용 분야

Measuring principle operates independently of physical fluid properties such as viscosity or density

Highest measurement performance for liquids and gases under varying, demanding process conditions.

Device properties

Mass flow: measured error ±0,05...
액세서리 / 예비 부품
Kit power s.b. 40/8X/65 220V REx000

220V = 85-260VAC

Kit power s.b. 40/8X/65 220V REx120 Ex

220V = 85-260VAC

Kit p.s.b.8X 220V REx120 HE Ex

HE = harsh environment 220V = 85-260VAC

Kit p.s.b. 40/8X 220V REx330 Ex

220V = 85-260VAC

Kit p.s.b.8X 220V REx330 HE Ex

220V = 85-260VAC HE = harsh environment

Kit P.s.b. 40/8X/65 24V REx000

24V = 20-55VAC / 16-62VDC

Kit p.s.b.8X 24V REx000 HE

HE = harsh environment 24V = 20-55VAC / 16-62VDC

Kit P.s.b. 40/8X/65 24V REx120 Ex

24V = 20-55VAC / 16-62VDC

Kit P.s.b. 8X 24V REx120 HE Ex

HE = harsh environment 24V = 20-55VAC / 16-62VDC

Kit P.s.b. 40/8X 24V REx330 Ex

24V = 20-55VAC/16-62VDC

Kit P.s.b. 8X 24V REx330 HE Ex

24V = 20-55VAC/16-62VDC HE = harsh environment

Kit 10 fuses 250 VAC T800 MA

Kit 10 fuses 250 VAC T 2A00

Kit meas. amplifier Pmass 84 CN EX

CN= language ZH + EN

Kit meas. amplifier 84 CN HE EX

Language: ZH, EN HE = harsh environment

Kit meas. amplifier Pmass 84 WEA EX

WEA= language DE+EN+FR+IT+ES+PT+NL

Kit meas. amplifier 84 WEA HE EX

Language: FR, ES, IT, NL, PT, DE, EN HE = harsh environment

Kit meas. amplifier Pmass 84 EES EX

EES= language SV+FI+NO+RU+PL+CS+EN

Kit meas. amplifier 84 EES HE EX

Language: SV, FI, NO, RU, PL, CS, EN HE = harsh environment

Kit meas. amplifier Pmass 84 SEA EX

SEA= language JA+ID+EN

Kit meas. amplifier 84 SEA HE EX

Language: JA, ID, EN HE = harsh environment

Kit commodul Iout passive/Frequency Exi

50/53/40/8X/93/65

Kit I/O Iout passive/Frequency HE Exi

50/53/8X HE = harsh environment

Kit commodul Iout active/Frequency Exi

50/53/40/8X/93/65

Kit I/O Iout active/Frequency HE Exi

50/53/8X HE = harsh environment

Kit Com ModbusRS485+stat.In 2Interf.Ex

53/83/84/65/8CN/8DF

Kit I/O Modb.RS485+Stat.In 2Interf.HE EX

53/83/84/8CN/8DF HE = Harsh environment

Kit Commodul current out 3 Interface Ex

53/55/8X/93/65

Kit I/O current out 3 Interface HE EX

53/55/8X HE = harsh environment

Kit Sub PCB current out

53/55/8X/93/65

Kit Sub PCB current out HE

53/55/8X HE = harsh environment

Kit Sub PCB Status input

53/55/8X/93/65

Kit Sub PCB Status input HE

53/55/8X HE = harsh environment

Nr

31

Order code

50108692

Nr

31

Order code

50108692

Nr

31

Order code

71039490

Nr

31

Order code

71039490

Kit display modul Wall enclosure

53/55/83/84/93/8CN/8DF

Nr

19

Order code

50098637

Kit connec. board PMASS8X wall enclo

Nr

19

Order code

71039493

Kit connec. board 8X wall enclosur HE

HE = harsh environment

Kit connection board 8X FS

Sensor: A/I/M/F/H/E/S/P/O/X

Kit connection board 8X FS HE

Sensor: A/I/M/F/H/E/S/P/O/X HE = harsh environment

Kit connection board 8X FS Ex

Sensor: A/I/M/F/H/E/S/P/O/X

Kit connection board 8X FS HE EX

Sensor: A/I/M/F/H/E/S/O/X, HE = harsh environment

Kit S-Dat Promass 84/8CN/8DF programmed

Serialnumber is forceful required

Nr

32

Order code

50094027

Kit Cover 5X/40/8X/93/65 with window Exd

Nr

32

Order code

71069283

Kit cover 8X with window INOX Exd

Nr

33

Order code

50094029

Kit Cover 5X/40/8X/93/65 vers. blind Exd

Nr

33

Order code

71069287

Kit cover 8X blind version INOX Exd

Nr

10

Order code

50094038

Nr

10

Order code

50094038

Nr

10

Order code

50094038

Nr

10

Order code

71247838

Repair kit cover, remote version

Usage: 10/5X/8X/8DF/8CN/92F/65/400/800 acc. service info SI01351D-1/06 Consists of: Cover Rep.kit for G14, O-Ring 110.00 x 4.50 HNBR, Grease

Nr

10

Order code

50094038

Nr

10

Order code

71247838

Repair kit cover, remote version

Usage: 10/5X/8X/8DF/8CN/92F/65/400/800 acc. service info SI01351D-1/06 Consists of: Cover Rep.kit for G14, O-Ring 110.00 x 4.50 HNBR, Grease

Nr

34

Order code

50094039

Kit Cover 5X/40/8X/93/65 Conn.termi.Exe

Nr

34

Order code

71069290

Kit cover 8X terminal compart. INOX Exe

Nr

35

Order code

50094040

Kit Cover 5X/40/8X/93/65 Conn.termi.Exd

Nr

35

Order code

71069288

Kit cover 8X terminal compart. INOX Exd

Nr

15

Order code

50096840

Kit 10 cable glands M20x1,5

Nr

15

Order code

71069285

Kit 2 cable glands M20x1.5 INOX Ex

Nr

15

Order code

50098041

Nr

15

Order code

50098041

Nr

13

Order code

50096841

Kit Ground terminal / Cover clamp

Nr

13

Order code

71069284

Kit 2 Screening sheet wall enclo.

Kit 2 Screening sheet field housing

Nr

23

Order code

50098701

Kit Part 8X Stainless housing comp.

Sensor: A/I/M/F/H/S/P

Nr

22

Order code

50098702

Kit Part 8X fieldhousing compact

Sensor: A/I/M/F/H/S/P/O

Nr

26

Order code

50103152

Nr

26

Order code

50103152

Nr

28

Order code

50093554

Kit cable Promass remote version 10m

Nr

28

Order code

50093573

Kit cable Promass remote version 20m

Nr

28

Order code

50098567

Kit cable PROMASS remote version 10m Ex

Nr

28

Order code

50098568

Kit cable PROMASS remote version 20m Ex

Kit Screw sealing 84/8DF/8FE/8FF

Kit 50 lead seals

Usage: Promag 51, Promass 84
신제품

컴팩트하고 접근이 용이한 트랜스미터가 장착된 정확하고 견고한 유량계로, 유량이 급변하는 열악한 환경에서도 광범위한 어플리케이션에서 사용할 수 있습니다.

최대 4개의 I/O를 지원하는 정확하고 견고한 리모트 버전 유량계로, 고난도 프로세스 조건에서도 최고의 액체 및 기체 측정 성능 제공